These short video's show some of the areas where we may want to work together.
1. Impact investment
Del 1 (allmän introduktion)
Del 2 (mer konkret)
2. Change management. Or Building back sustainably (in English)
3. Sustainable procurement (in Swedish)
4. Sustainability reporting: how to make use of all the work you've done!
The areas described in these video's can easily fit into the framework below:
(the pyramid reflects an increase in engagement and complexity. The box underneath is separate as it is a slightly different offer than the others)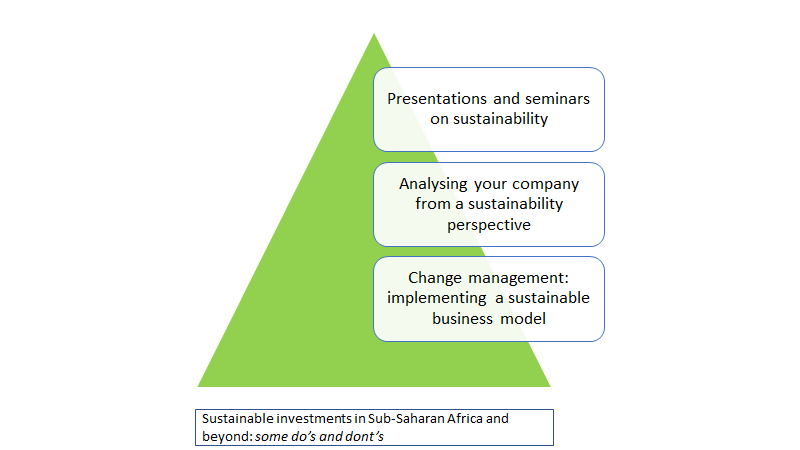 Presentations
Typically, a presentation will give you/your management/your staff an understanding of why sustainability is so vital and an appreciation for what it may entail for your organisation. You will understand how the Global Goals came about, what they imply for the activities of your organization and what individuals can do in practice to contribute to a slightly better world. We can tailor a presentation for your organisation at various levels, either more interactive or as a lecture, depending on your needs. Perhaps a presentation can be a part of a "kick-off" or a way to stimulate discussions within your organisation?
Analysis
Analysing your business to identify what already exists from a sustainability perspective, how the business and its value chains relate to competitors in your market segment, how you fare in relation to different standards (in particular the 2030-Agenda for Sustainable Development but also e.g. GRI) and what still needs to be done; is an important step in a comprehensive sustainability review. With your input, We-ness can produce a suitable, tailored assessment of your organization.
Develop and implement a sustainable strategy
With a more in-depth collaboration, we can together develop a change strategy aiming at strengthening sustainability in the work of your company or organisation. Often a change strategy is an important step, but it may not be enough to instigate the desired change. We-ness can support you and your team in the process of change, which is likely to include awareness raising and communication, dialogue with stakeholders around desired values and other aspects of organisational and cultural change management.
Investing in Africa?
If your company is interested in entering the African market, We-ness offers advice on some of the opportunities and challenges. Investing in this market can, if done sustainably, have a hugely positive impact on the 2030 Agenda for Sustainable Development. However, there are also some risks whereby your contribution may do more harm than good. Being able to identify both risks and opportunities is key.